WHAT EMPLOYEES REALLY WANT?

WHY IS FEELING HEARD SO IMPORTANT?

Highly engaged employees are 3x more likely to say they feel heard at their workplace (92%) than highly disengaged employees (30%).
74% of employees report they are more effective at their job when they feel heard.
88% of employees whose companies financially outperform others in their industry feel heard compared to 62% of employees at financially underperforming companies.
An Organization that's aware of the importance of Workplace Culture and makes improvements each year will perform better than an organization that ignores or takes very little interest in it.
Conducting a Culture Survey helps diagnose a bridge, if it exists, between current Culture and the Culture an Organization's Management hopes to achieve
By analyzing Employee feedback and perceptions about the Culture at present and aspects of the Culture they find appealing, an organization can mend its strategies to try and eliminate the gap between the two.
CAPSTONE'S CULTURE MULTIPLIER - APPROACH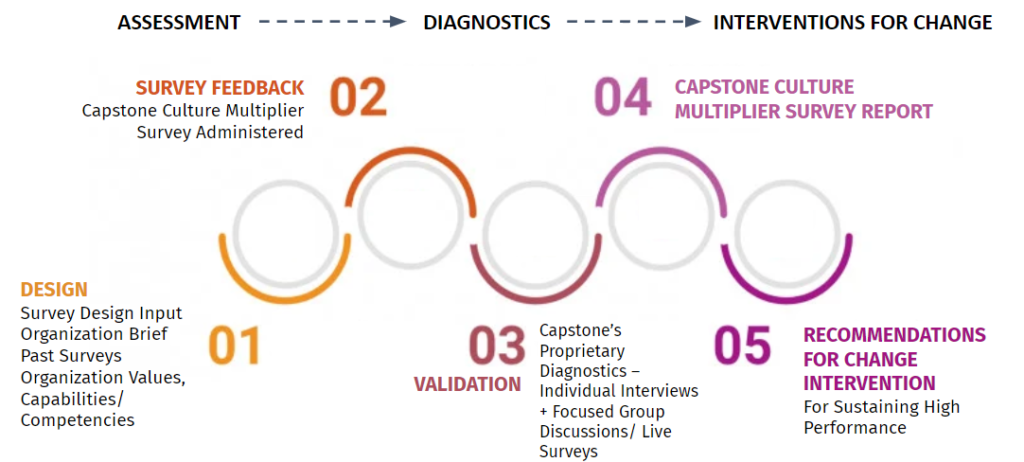 CAPSTONE'S APPROACH – CULTURE MULTIPLIER ON QUESTIONPRO

Capstone's Culture Multiplier on QuestionPro is our proprietary impactful approach for using Survey Feedback method with Questions across the 6 Cs for Culture Assessment and driving Employee Engagement 

The Platform has optional relevant questions to choose from or can be custom to capture the organization's realities/ painpoint's 

The Culture Multiplier on QuestionPro can provide many meaningful insights for driving Culture Change and Engagement for enhancing Employee Experience

The Diagnostics process involves one-on-one's to validate the survey data and nuance the insights and Change agenda.
CAPSTONE'S CULTURE MULTIPLIER ON QUESTIONPRO

Is a Culture and Employee Experience survey and analytics platform
That provides meaningful analytics and insights about your people
And can help you drive the best kind of change
CAPSTONE'S CULTURE MULTIPLIER MAKES SENSE BECAUSE

Believe that every organization can be an amazing place to work, while also being a great business
Are deeply involved with studying the most significant issues in the workplace today to help you drive meaningful change
Provide exceptional technology at a great value
Have a dedicated customer support team who makes sure you get the most out of our platform and expertise
CAPSTONE'S CULTURE MULTIPLIER TRACKS EMPLOYEE EXPERIENCE THROUGH THE EMPLOYEE LIFECYCLE JOURNEY